About KIG
(Khagolam
Institute of Geoinformatics

)
Mission
To contribute in nation development in the field of geoinformatics education for the advancement.
Vision
Identify the needs of Indian geospatial marketplace, to facilitate training opportunities and to promote geospatial education through outreach, creative programs and resources.
Overview
The objective of the Khagolam Institute of Geoinformatics (KIG) is to carry on with a ritual of superiority in the field of geospatial training for tomorrow's challenges. If you intend to have a rewarding career, then you need to show that you have a competitive edge and that you are better than your nearest competitor. The value of the certification and diploma courses awarded by KHAGOLAM is an example in itself. The training offered by KHAGOLAM provides required competitive edge to participants. KHAGOLAM provide training in following fields:
Geographic information System (GIS)
Remote Sensing
Photogrammetry and LiDAR
Global Satellite Navigation System (GNSS), Global Position System (GPS)
Advanced Surveying Technologies and Instruments like Total Station, RTK Drones
Application specific Training i.e. GIS and Remote Sensing for Urban Planning, Environment, Agriculture Management, Forestry
Training is delivered by professional faculties in online and classroom mode. Course contents aligned regularly with Indian geospatial industry demand to maintain high employability.
Curriculum Advisory Body (CAB)
Role of CAB is to control and keep curriculum in sync of industry needs. CAB consist of domain experts from industry and member of CDD team of KIG. Yearly brainstorming done by CAB to align and improve the course curriculum with needs. Whereas CDD team itself analyze job role posted on most popular web sites to conclude demanding factors/skills of job roles. This make KIG courses curriculum not only competitive but also ensure quick job of participants. CDD design, develop and evaluate the skills set through curriculum. Skill measured in course are strictly confirmed by comprehensive exams.
Curriculum, Design and Development (CDD)
Curriculum Design and Development (CDD) team plays a significant role in designing KIG course-ware which is of world class standard. CDD develops the course-ware keeping in mind the mixed audience to cater to entry level as well as high end professionals. CDD follows ADDIE Model. The ADDIE model is an approach to developing the instruction that we will teach to our participant.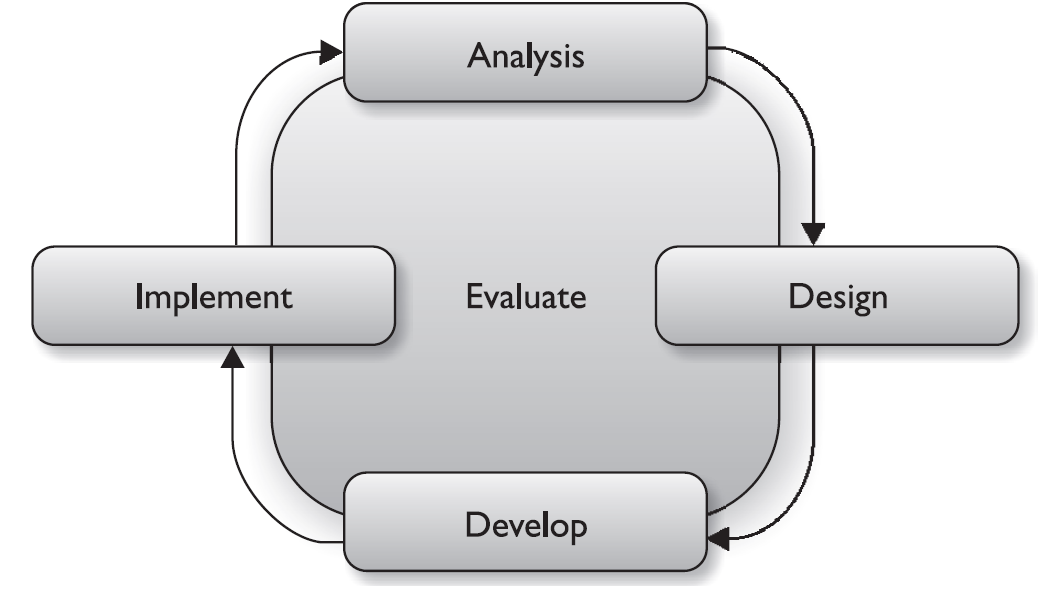 CDD team engages on the following:
Identify the geospatial market needs, GIS team's roles and competency to cater.
Analyzing the learner needs as per role, includes the task analysis which examines how the technology we will be reaching will change how the learner complete their roles in organization.
Design the technical training, includes determination of what the best approach is for knowledge transfer, what must be included in the training, technical training scope, constraints and assumptions, course structure and course context
Developing the course material, includes preparing the study guide, workbook, presents contents logically with more emphasis on graphical representation, uses real time examples to ensure that students have more meaningful hands-on practical's
Implementation of the technical course, operates on CompCTT terminology standards
Evolution of the course, includes preparing exams papers, group discussion topics, monitor curriculum effectiveness based on the student and placement feedback, regularly reviews the curriculum and updates courses as needed
Trainer Development Program
KIG's Trainer Development Program (TDP) comprises of geoinformatics experts, who constantly monitor the quality aspects of our training program and re-certifies the instructors at regular intervals. TDP operates on CompCTT terminology standards. TDP is one of the integral part of KIG's instructional excellence. TDP is responsible for imparting professional training to KIG instructors countrywide to enhance their efficiency and product knowledge.
This in-house team is in constant touch with every center across the country to know their requirement and to facilitate product training. Only TDP certified instructors will be allowed to led a classroom. TDP is instrumental in training instructors to possess the knowledge and experience to efficiently prepare the students with the skill sets which are more relevant and industry specific.